The Genitorturers have transformed into GEN-XX!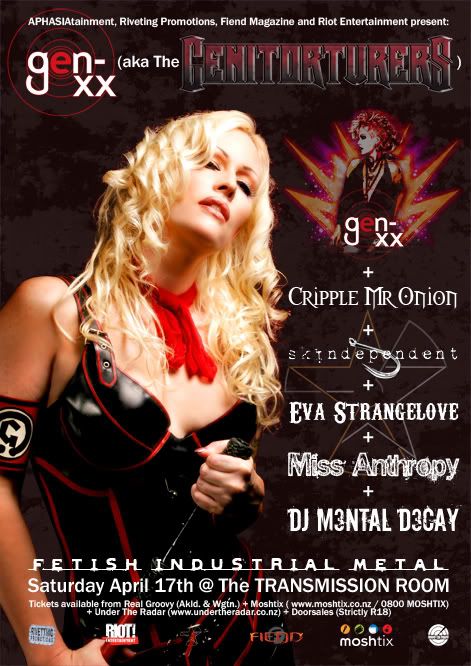 APHASIAtainment, Riveting Promotions, Fiend Magazine and Riot Entertainment present:

GEN-XX (aka THE GENITORTURERS) (US.)
+
Cripple Mr Onion
+
Skindependent (Chch.)
+
Eva Strangelove (Well.)
+
Miss Anthropy
+
DJ M3ntal D3cay


Saturday April 17th
The Transmission Room
396 Queen Street, Corner Mayoral Drive, Auckland
Doors 9PM
Strictly R18
Tickets $46 + booking fee
Doorsales $50
Tickets from Real Groovy in Auckland & Wellington, www.moshtix.co.nz, 0800 MOSHTIX, www.undertheradar.co.nz and Door sales.




Aphasia, Riveting, Fiend and Riot are proud to present the return of the head mistress of Fetish affair, Gen of THE GENITORTURERS, with her hard hitting Industrial side-project act GEN-XX. The difference from the Genitorturers you ask? It's the same domineering Frontwoman, performing with her band stripped down, churning out a near identical set to that which the full genitorture contingent would've torn through your ears. Strictly R18, this will be one of the biggest Fetish events of the year mixing crushing beats with theatrical foreplay. Their tour downunder barely even fits in before the Genitorturers play at the biggest Industrial and Gothic event on Earth, the Wave Gotik Treffen… having already toured heavily in the US this year, including Gen singing onstage as part of COMBICHRIST after lending her vocals to the new album "Today we are all Demons". Gen's past tours have also seen her play alongside the all-so-familiar HANZEL UND GRETYL and with the likes of KMFDM, 16VOLT, MORTIIS & BELLA MORTE. This will be a must gig for fans of RAMMSTEIN, MINISTRY and SKINNY PUPPY.

This will be a massive event mixing Burlesque, Suspension and Metal acts from around the country with sexually charged Industrial. The night includes the extreme suspension artistry of SKINDEPENDENT (Chch.) after only just having had their wounds heal after their latest bout of Skinfarming down South. The world-renown Burlesque of EVA STRANGELOVE (Well.), who like Gen, has performed onstage with the likes of Combichrist. The fiery and stunning body paint artistry of MISS ANTHROPY. Opening for the Genitoruers is the continuing return of CRIPPLE MR ONION, back from time off spent rebuilding and grinding up the gear for another destructive crack at the New Zealand metal scene. Not to mention, this tour is also supported by Riot Entertainment, one of the main Metal distributors in Australia…

About the Genitorturers:

The Genitorturers are one of the most recognised and genre defying groups of the music underground. Their stage show, known for its piercingly explicit theatrical overtones and a pastiche of fetishes from all dispositions, has become a thing of fringe rock legend. What surprises many is how influential this group is, hardcore fans even tattoo the pin-up image of Gen, the band's singer and master of ceremonies, on their bodies. With a lineup featuring members of Morbid Angel and past collaborations with members of Combichrist, KMFDM & Skinny Puppy, the group maintains a steady touring schedule in the US and abroad.

Described as the world's sexiest rock band, the Genitorturers cut their teeth, honed their music and live show in the early 90's Florida "Hardcore" music scene. The vision of front woman Gen, the sound of the Genitorturers combined hardcore punk and metal with industrial electronic elements, and with live shows that became legendary and infamous.
In the wake of the 1993 debut "120 Days of Genitorture" and successive releases, the band has been the subject of over 5,000 pages of articles, and appeared in television features on VH1, Fox News, Hard Copy, HBO's Real Sex and Playboy TV's Sexcetera. Gen herself has even been the subject of a British release feature film "Preaching to the Perverted", a fictional account exploring her life and exploits.


+ For EFTPOS/CASH tickets - Real Groovy ticketing counter in Auckland and Wellington (mention that tickets are through Moshtix!) until 7PM SATURDAY APRIL 17TH! The Christchurch Real Groovy unfortunately can't sell Gen-xx tickets.

+ ONLINE TICKETS from UNDER THE RADAR
($46 + $4 booking fee)

+ ONLINE TICKETS from MOSHTIX
($46 + $4.80 booking fee)

+ PHONE SALES thru 0800MOSHTIX

+ DOORSALES will be $50 (cash only) at the door on the night. Real Groovy and Moshtix online tickets will cut off at 7PM on the day to match when Real Groovy closes. Under the radar online tickets will cut off at 5:30PM.

+ If you're after a car ride up from Wellington, drop me an email and I'll try my best to hook you up with a ride to and from the gig!

+ Gareth has the ole' ticket scanner going now so please BRING A TICKET PRINTOUT on the night AND buying a ticket on trademe, etc is at your own risk. If it's fake, it won't get you in the door. Moshtix tickets should be considered non-transferable tickets, but with Under the radar tickets drop Angela a line if you're selling a ticket and she'll work to have your ticket transferred into another persons' name.

+ I've only arranged cash sales on the night for Merch. That may change but line your wallets folks!

+ Contact me here




Genitorturers myspace

Gen-xx myspace

Genitorturers on Facebook - here and here

Genitorturers on Vampire freaks

Genitorturers website

Cripple Mr Onion myspace

Cripple Mr Onion website

Skindependent on Facebook

Skindependent website

Eva Strangelove myspace

DJ M3ntal D3cay on Last.fm

Rivetting promotions myspace

Rivetting promotions on Facebook

Fiend magazine myspace

Fiend magazine on Facebook

Fiend magazine website

Riot Entertainment myspace here and here

Riot Entertainment website

APHASIAtainment on Facebook






Facebook event page

Facebook tour page

Last.fm event page

Vampirefreaks event page

Myspace event page

Under the radar event page




Thanks to everyone who's helped out so far! Joseph, Russ, Az, Leila, Rene, Kate, Bryan, Amber, Sarah, Gareth and of course, Gen and the guys. I would like also like to apologise for any inconvenience caused by the change of the Genitorturers into Gen-xx, this was caused as a result of difficulty at the band's end.